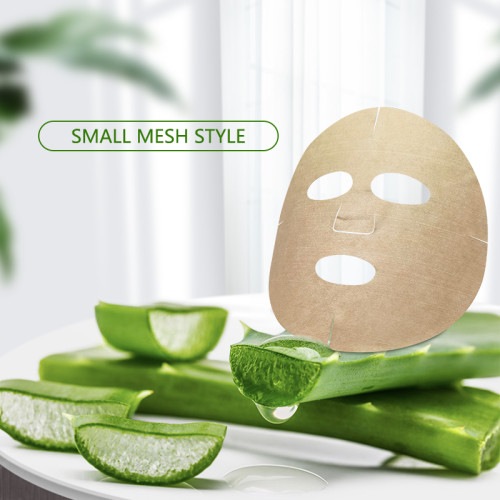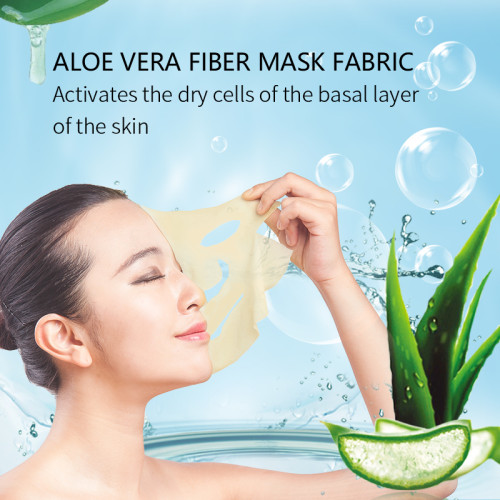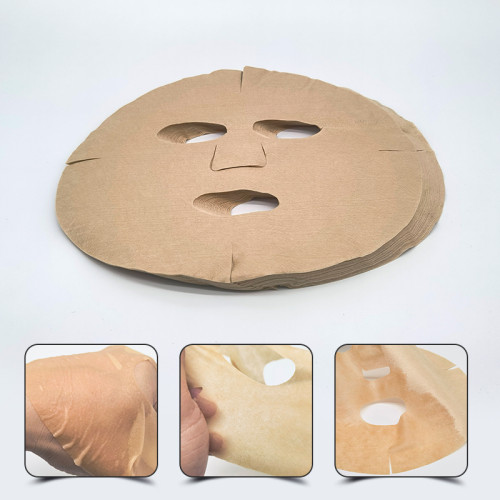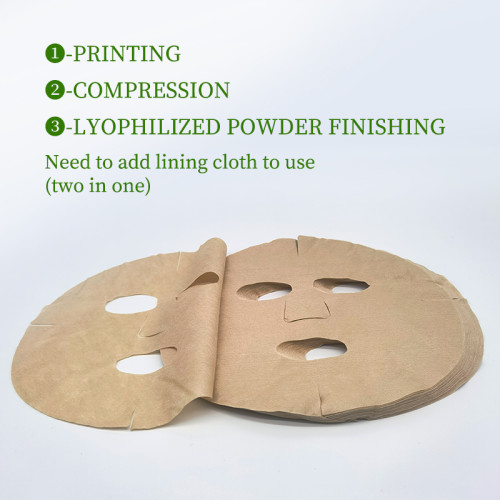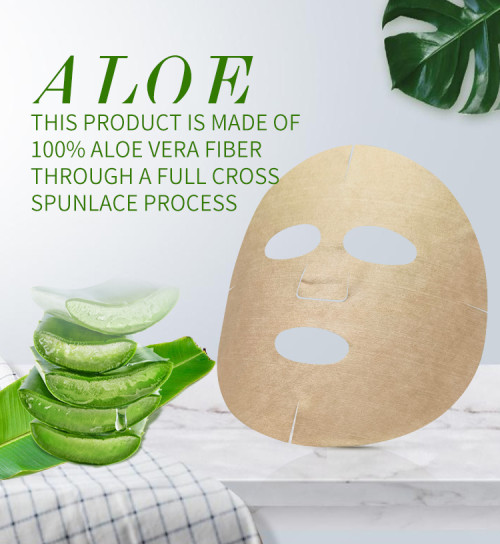 Aloe Vera Fiber Mask Sheet Aloe Vera Facial Sheet Mask Plant fiber Spunlace Nonwoven
Model

ALOE50
MOQ

10000 piece
Item specifics
Color

Khaki
Ingredient

100% Aloe Fiber
Place of Origin

Guangdong, China
Brand Name

Proyons
Skin Type

All skin types
Feature

soft,elastic,smooth,nourishing,whitening
Description
Product Description
As a professional facial mask manufacturer, we have developed different types and functions of plant fiber spunlace nonwoven for face sheet mask all year round.
We provide all kinds of disposable face mask sheet wholesale. If you have any needs in this regard, please feel free to contact us.
This product is made of 100% aloe vera fiber through a full cross spunlace process.Aloe vera fiber spunlace mask fabric has very similar characteristics to cotton in many aspects.Including the properties of aloe vera fiber's moisture absorption and ventilation, this spunlace fabric is very comfortable to apply and can be processed by other fiber blends to provide overall performance benefits.The AOLE50 mask cloth is brightly colored and does not fade. The cloth surface is soft and elastic, with air permeability and moisture absorption comparable to that of kapok, and the good elasticity will not cause wrinkles and foaming of the mask cloth. The aloe vera fiber fabric is soft and smooth, the overall drape is good, and at the same time, it can provide thermal insulation when applying the face to a certain extent. Aloe vera fiber is rich in aloe vera polysaccharide, which has a good nourishing and whitening effect on human skin. Other ingredients such as active enzymes, amino acids, aloe-emodin, etc., not only have a good moisturizing effect on human skin, but also accelerate skin metabolism and enhance skin elasticity, so that the skin appears smooth and soft.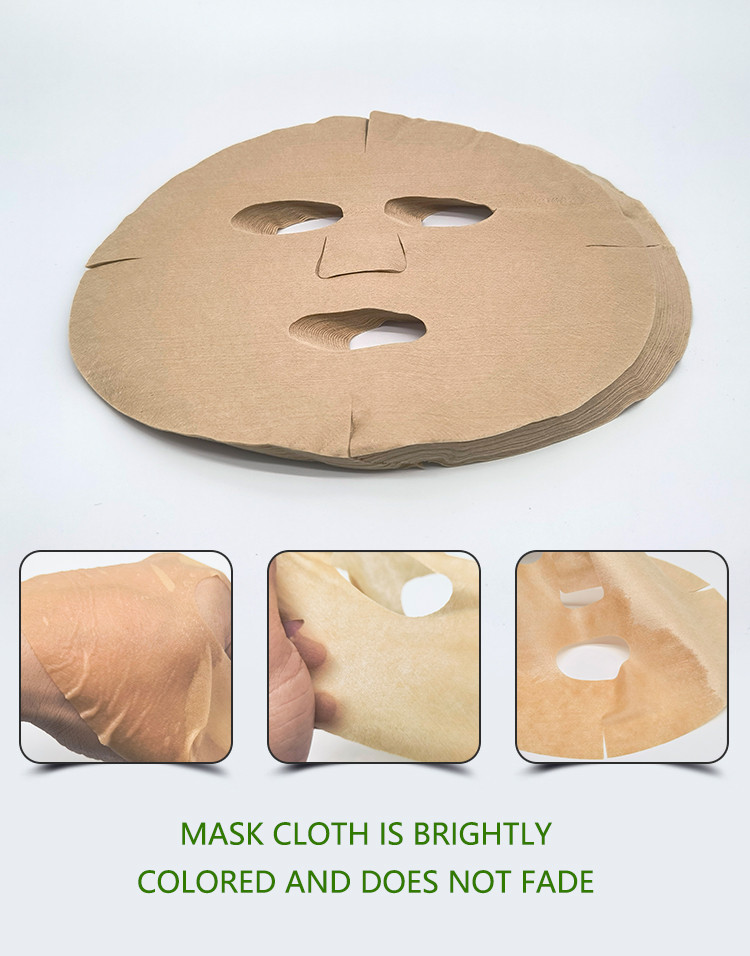 Aloe50

Khaki

Plian

50gsm

Single Sheet

200xs220mm

YES

Variety of materials be blended:

YES

Printing/Compression/Lyophilized powder finishing

Aloe vera fiber spunlace non-woven fabric and mask cloth have good hygroscopicity and hygroscopicity. At the same time, because the fiber is soft, it can fit the skin in more directions, and it is not easy to fall off when used. Aloe vera fiber mask cloth feels soft and smooth, moisture absorption and breathability, good shape retention and drapability, smooth cloth surface and natural luster. Aloe vera is rich in natural vitamins, minerals, amino acids, etc., which are extracted from fibers and improve beauty effects and skin basic nutrients.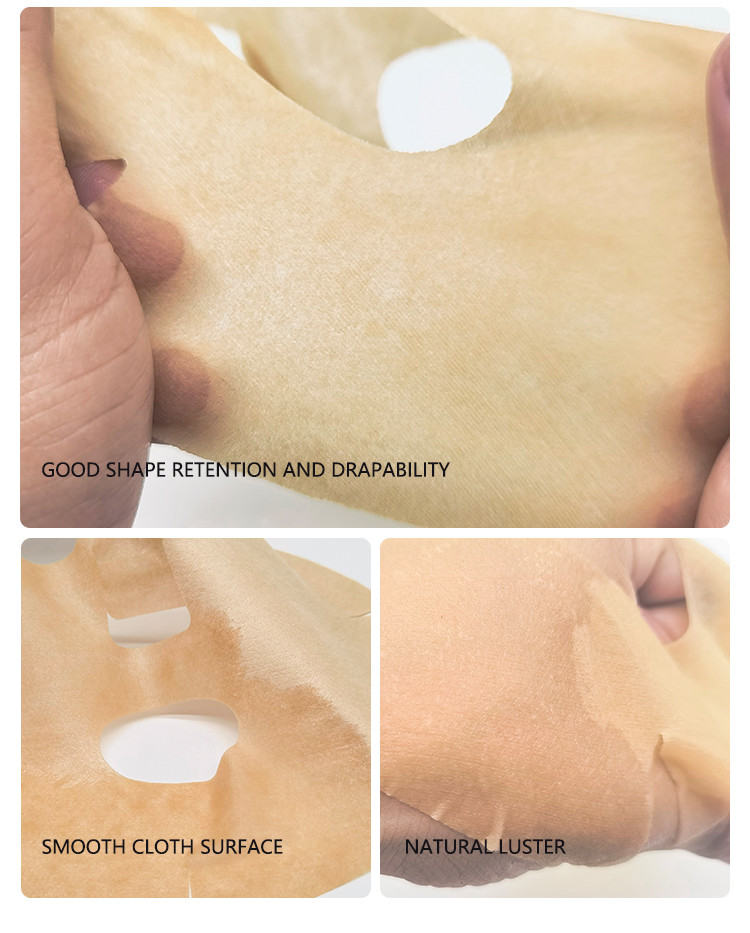 Heavy Metal Detection Data:

Extractable heavy metal test method: refer to Testing Methods STANDARD 100 By OEKO-TEX (2017),detection and analysis by inductively coupled plasma emission spectrometer.

Testing Parameter

Units

Method detection limit (direct contact with skin)

Limit

Result

(Pb)

mg/kg

0.1

0.2

ND

(Cd)

mg/kg

0.01

0.1

ND

(Cr)

mg/kg

0.1

1

ND

(Hg)

mg/kg

0.01

0.02

ND

(Sb)

mg/kg

3

30

ND

(As)

mg/kg

0.2

0.2

ND

(Cu)

mg/kg

2.5

50

ND

(Co)

mg/kg

1

1

ND

(Ni)

mg/kg

1

1

ND

Result

Pass
| | | | |
| --- | --- | --- | --- |
| | | | |
| | GB/T2910 | % | |
| Weight | ISO 9073-1 | g/m2 | 49.2 |
| | PRIUS Standard | mm | 0.20 |
| | FZ/T6402 | S/10cm | 23.9 |
| White degree | GB/T 8424.2 | | |
| Tensile strength CD dry | ISO 9073-3 | N | |
| Tensile strength MD dry | ISO 9073-3 | N | 20.7 |
| Breaking elongation CD dry | ISO 9073-3 | % | 136.7 |
| Breaking elongation MD dry | ISO 9073-3 | % | 130 |
| Capacity of liquid-absorbability | FZ/T 64012 | % | 904 |