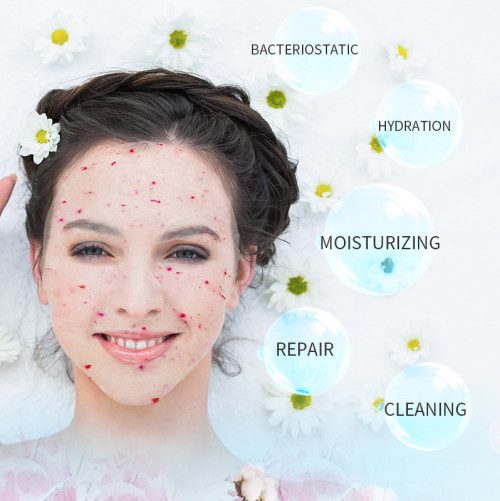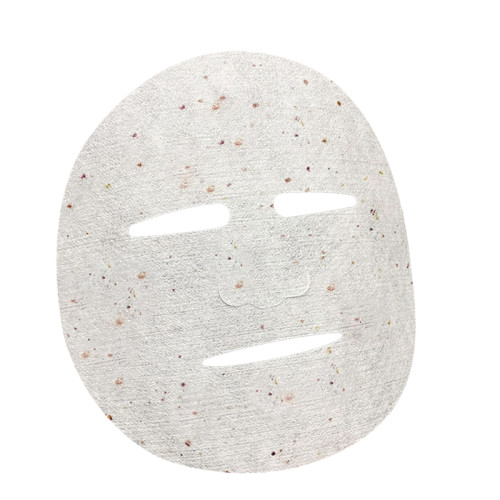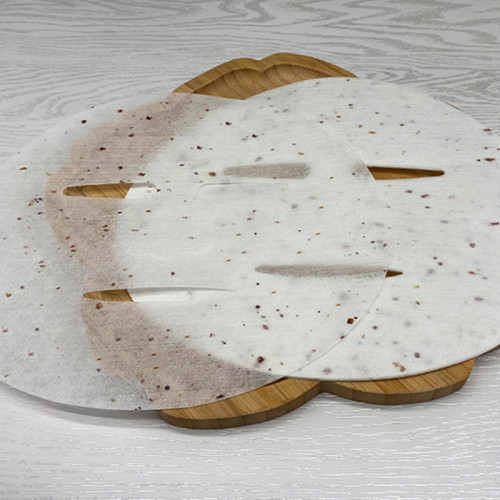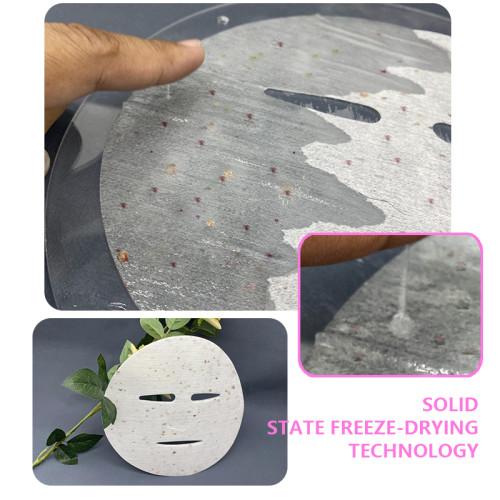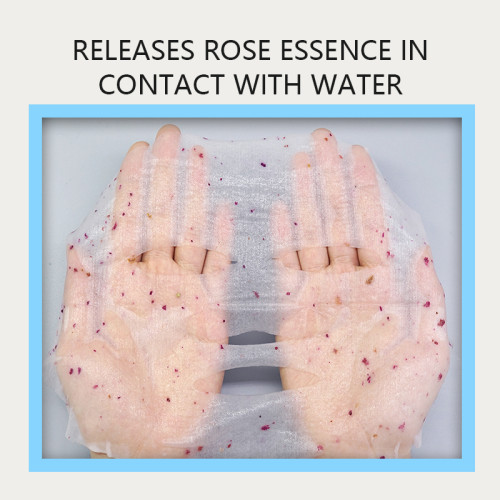 Repairing Skin Care Facial Mask Fabric Rose Petal Hyaluronic Acid Freeze-dried Powder Dry Mask Sheet
Model

CD65-RO
MOQ

50000 piece
Item specifics
Color

White
Ingredient

lyocell,freeze-dried powder,dried rose petal
Place of Origin

Guangdong, China
Brand Name

Proyons
Skin Type

All skin types
Feature

moisturizing ,whitening effects
Description
Product Description
As a professional facial sheet mask manufacturer, we supply all kinds of different spunlace facial sheet mask fabric.Hyaluronic acid freeze-dried powder dry mask sheet is our most popular product. Because these products only need water to achieve the effect of skin care and beauty. If you are interested in this type of products, please feel free to contact us.
The freeze-dried face mask CD65-RO base spunlace fabric is made of 100% lyocell fiber and is manufactured by a full cross spunlace process. This product adopts a double-layer 22g spunlace non-woven composite structure. Various rose petals (freeze-dried petals) are added during the compounding process. Rose has natural whitening, wrinkle-removing, restoring skin elasticity, and can make the skin radiant. This is because roses are rich in vitamin C, as well as trace elements and minerals necessary for the skin to metabolize. Vitamin C has the effect of removing melanin particles in the skin and has obvious whitening effect, while minerals and trace elements can promote the metabolism, reproduction and division of the skin, which can promote the skin to remove wrinkles and become elastic. Combined with the post-finished hyaluronic acid freeze-dried essence, it further enhances the moisturizing, moisturizing and beauty effects. CD65-RO products only need to add pure (pure water) to achieve the effect of beauty and skin care anytime, anywhere. If you add pure dew such as makeup remover, you can achieve makeup removal and beauty in one step. This product uses water to release the freeze-dried essence of hyaluronic acid, resulting in a thick cosmetic body. The lyocell fiber spunlace nonwoven with double-layer composite structure has excellent deformation resistance in both transverse and longitudinal directions. At the same time, it is easy to use, natural materials, safe and non-irritating.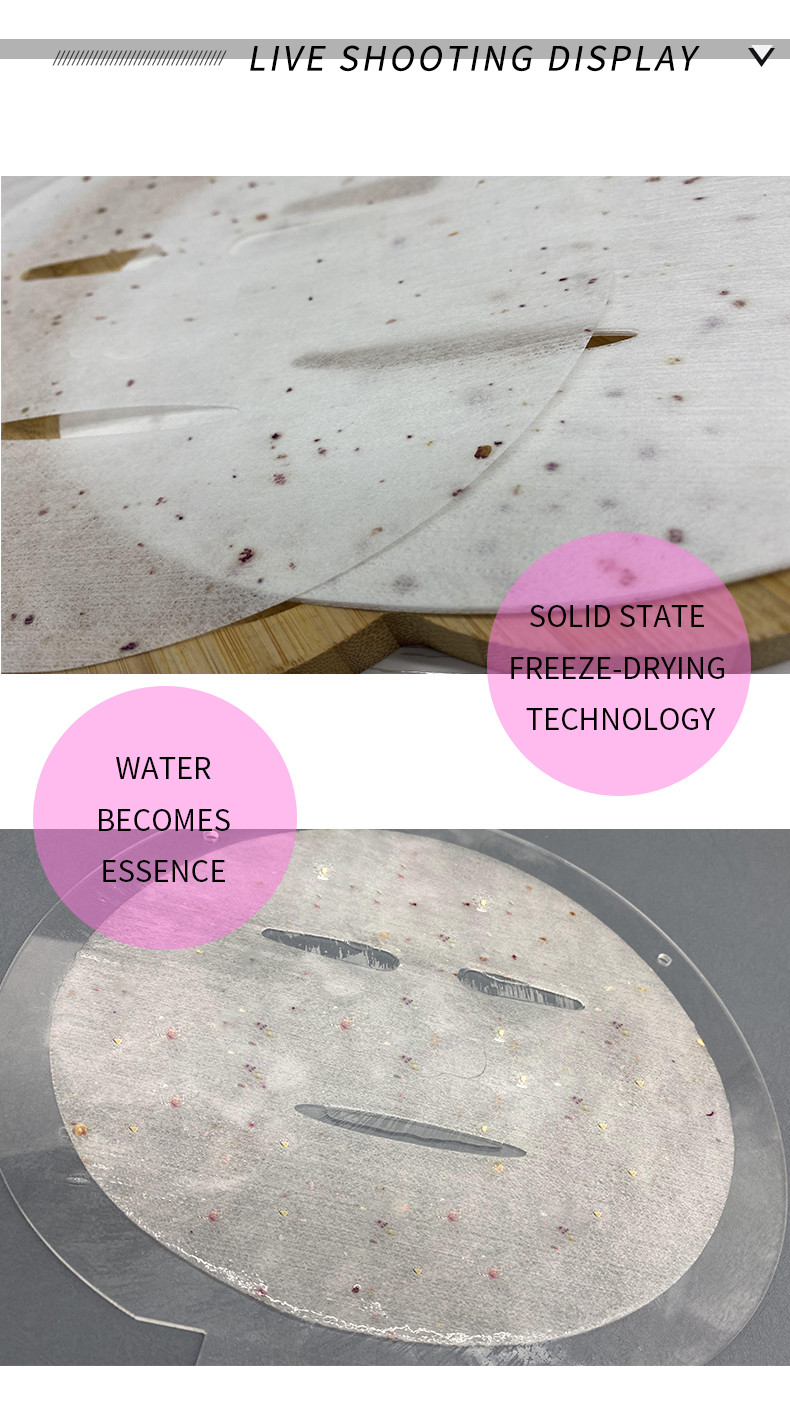 CD65-RO


White


Full cross spunlace process + freeze-dried powder finishing + rose (dried flower)


65gsm

65~150gsm


Lyocell fiber + freeze-dried powder finishing + dried rose flower


Single Sheet


220*200mm


After Finishing Process:

Hyaluronic acid freeze-dried powder


YES

Variety of materials be blended:

YES

Lyophilized powder finishing

Easy to use, a piece of mask paper is added with water, which is equivalent to a 35ml beauty moisturizing and whitening mask. The natural skin care ingredients of rose petals are preserved in the mask sheet using freeze-drying technology. Combined with hyaluronic acid, it can provide efficient moisturizing, moisturizing and whitening effects.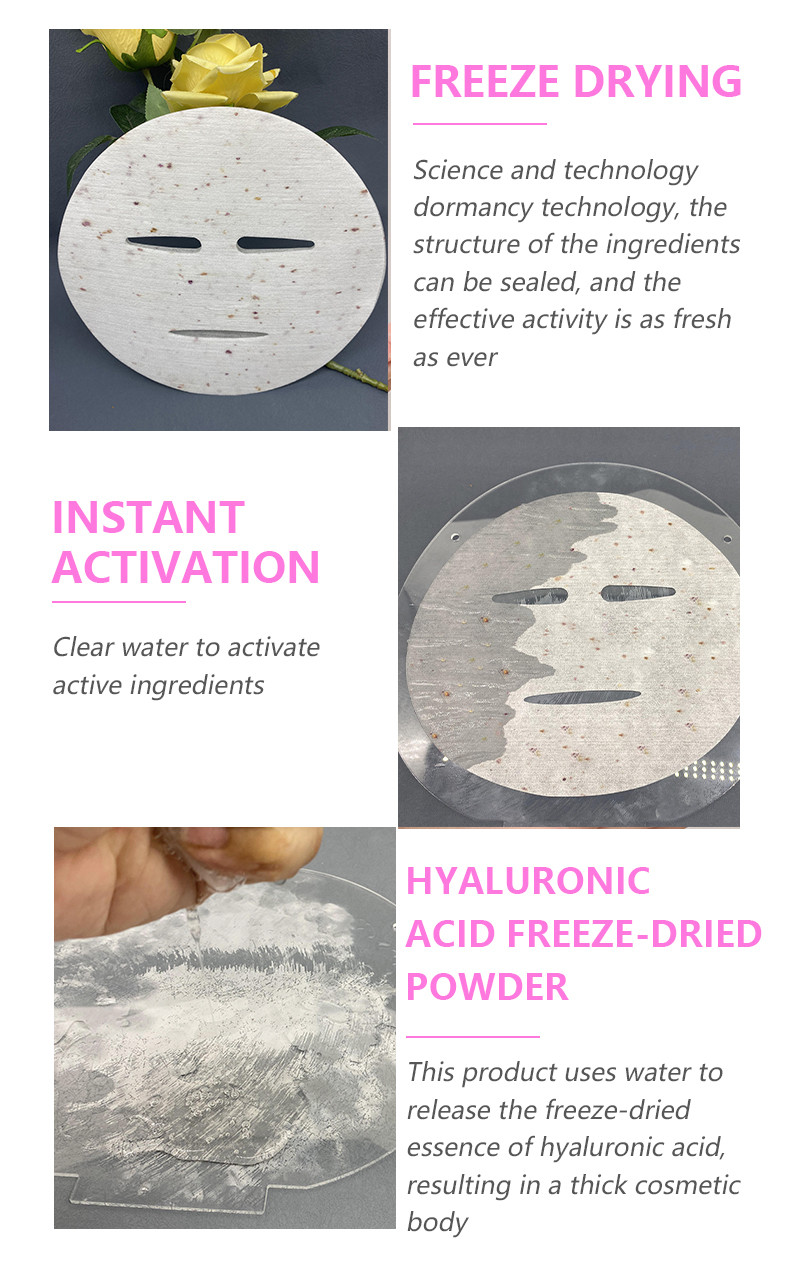 Heavy Metal Detection Data:

Extractable heavy metal test method: refer to Testing Methods STANDARD 100 By OEKO-TEX (2017),detection and analysis by inductively coupled plasma emission spectrometer.

Testing Parameter

Units

Method detection limit (direct contact with skin)

Limit

Result

(Pb)

mg/kg

0.1

0.2

ND

(Cd)

mg/kg

0.01

0.1

ND

(Cr)

mg/kg

0.1

1

ND

(Hg)

mg/kg

0.01

0.02

ND

(Sb)

mg/kg

3

30

ND

(As)

mg/kg

0.2

0.2

ND

(Cu)

mg/kg

2.5

50

ND

(Co)

mg/kg

1

1

ND

(Ni)

mg/kg

1

1

ND

Result

Pass
| | | | |
| --- | --- | --- | --- |
| | | | |
| | GB/T2910 | % | 75% lyocell fiber + 12% freeze-dried powder + 13% dried rose petal |
| Weight | ISO 9073-1 | g/m2 | 65.6 |
| | PRIUS Standard | mm | 0.28 |
| | FZ/T6402 | S/10cm | 30.2 |
| White degree | GB/T 8424.2 | | |
| Tensile strength CD dry | ISO 9073-3 | N | |
| Tensile strength MD dry | ISO 9073-3 | N | 52.1 |
| Breaking elongation CD dry | ISO 9073-3 | % | 139.9 |
| Breaking elongation MD dry | ISO 9073-3 | % | 135.2 |
| Capacity of liquid-absorbability | FZ/T 64012 | % | 1103 |