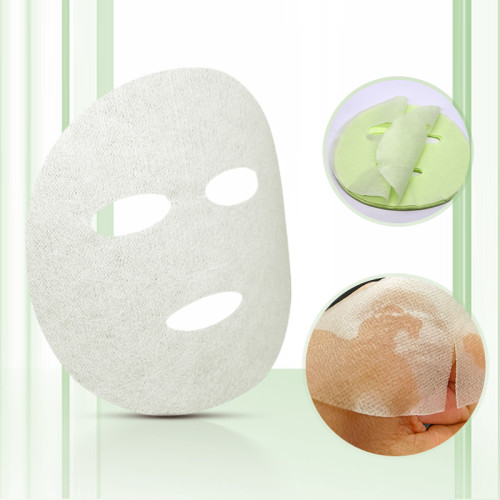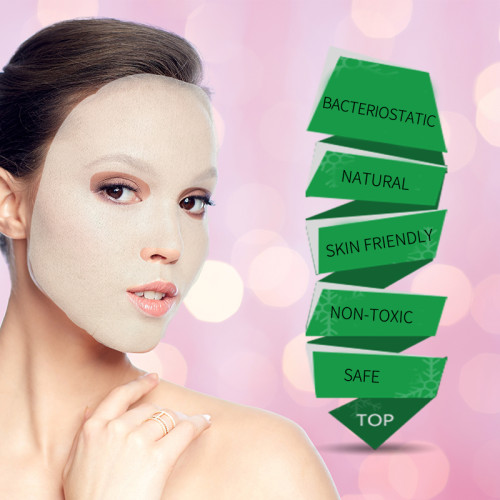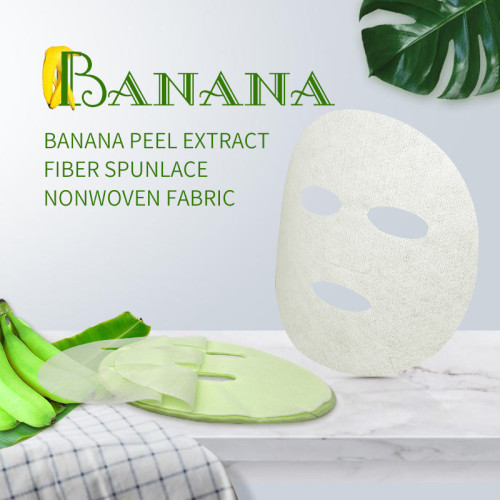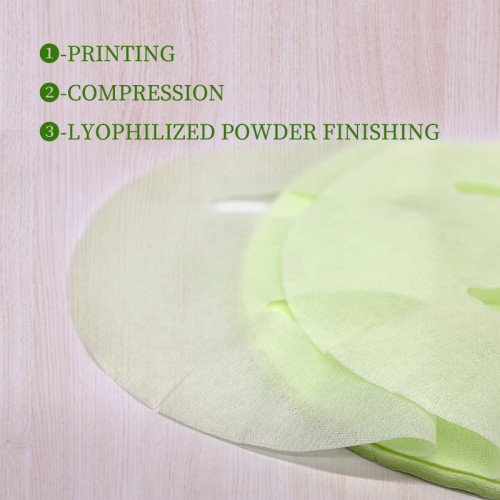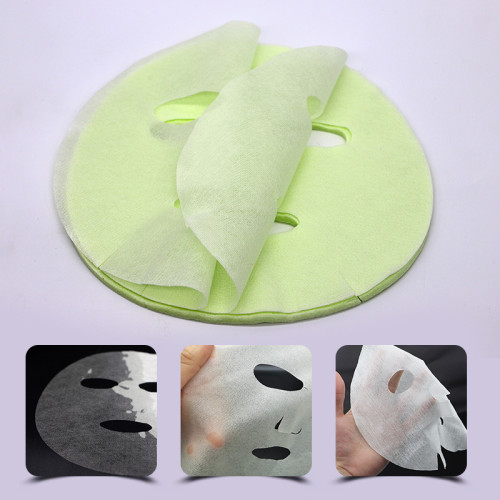 Facial Sheet Mask Fabric Banana Peel Extract Fiber Mask Fabric Material Face Sheet Mask Wholesale
Model

CGR50-GV
MOQ

30000 piece
Item specifics
Color

Light green
Ingredient

100% Banana Peel Extract Fiber
Place of Origin

Guangdong, China
Brand Name

Proyons
Skin Type

All skin types
Feature

light ,breathable, not easy to deform, natural
Description
Product Description
As a professional spunlace mask sheet manufacturer, we have developed different types and functions of natural spunlace nonwoven for facial sheet mask fabric all year round.
We provide all kinds of fruit fiber face sheet mask wholesale. If you have any needs in this regard, please feel free to contact us.
Banana Peel Extract Fiber Organic Natural Facial Mask Skin Care
This product uses 100% banana peel fiber as raw material, and is manufactured by full-cross high-pressure spunlace. CGR50-GV uses the extract of banana peel-pyroderma as an additive, and uses the viscose fiber preparation process to generate 1.3Detx*38mm spunlace non-woven fibers.Fiber is added by different vegetable and fruit extracts to make fiber materials of different colors. Such as: light yellow, light blue, light red, light green and other color forms.Vegetable and fruit extracts are produced by biological fermentation, mixed with viscose pulp foil and spun. The spunlace mask fabric produced in this way is more suitable for the skin, light and breathable, and takes care of the skin more thoughtfully.The pyrocortin in this product can inhibit the growth of bacteria, and experiments have proved that it has the effect of bactericidal. It has good preventive and therapeutic effects on skin itching and other symptoms caused by bacteria. The fabric of this product is 50gsm, which belongs to the medium-to-upper thickness mask substrate fabric. It has the advantages of fine and soft cloth surface, stable vertical and horizontal mechanical tensile properties, not easy to deform, natural environmental protection and health, excellent water absorption and moisturizing performance.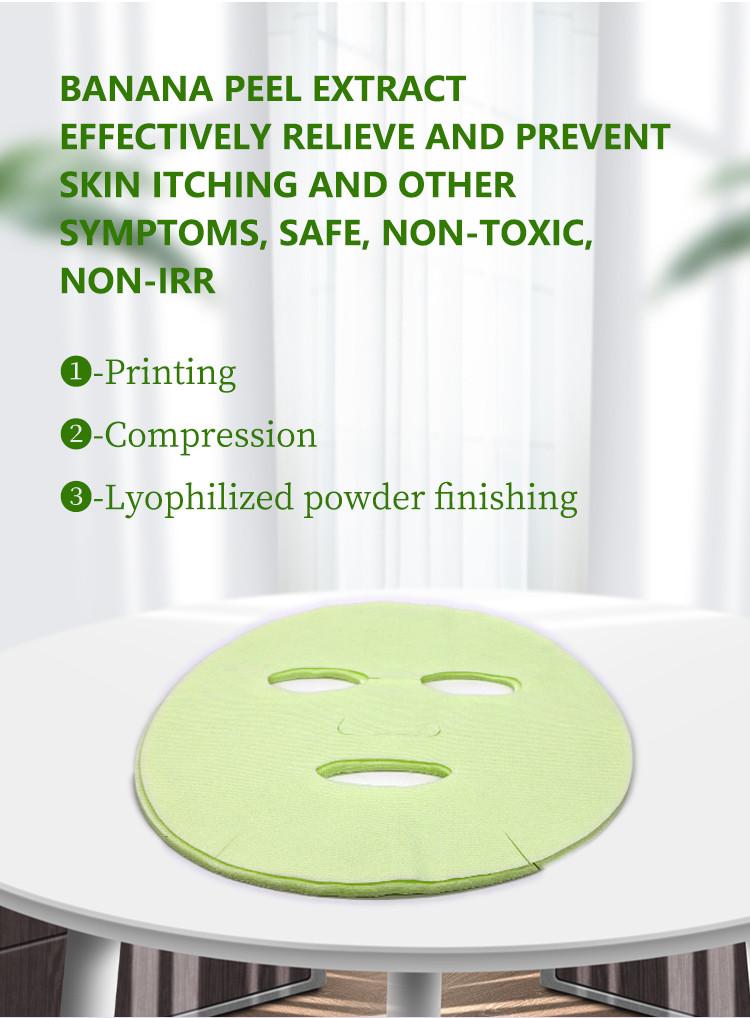 50gsm

100% Banana peel extract fiber

Single Sheet


200xs220mm

YES

Variety of materials be blended:

YES

Printing/Compression/Lyophilized powder finishing

1.Banana peel extract effectively relieve and prevent skin itching and other symptoms, safe, non-toxic, non-irritating,non-sensitizing.

2.Soft texture, skin friendly and not easy to damage the skin.

3.Has good breathability, moisture absorption and skin nourishment.

4.The fabric surface is more suitable for the skin, which is more conducive to the skin's absorption of the essence during use.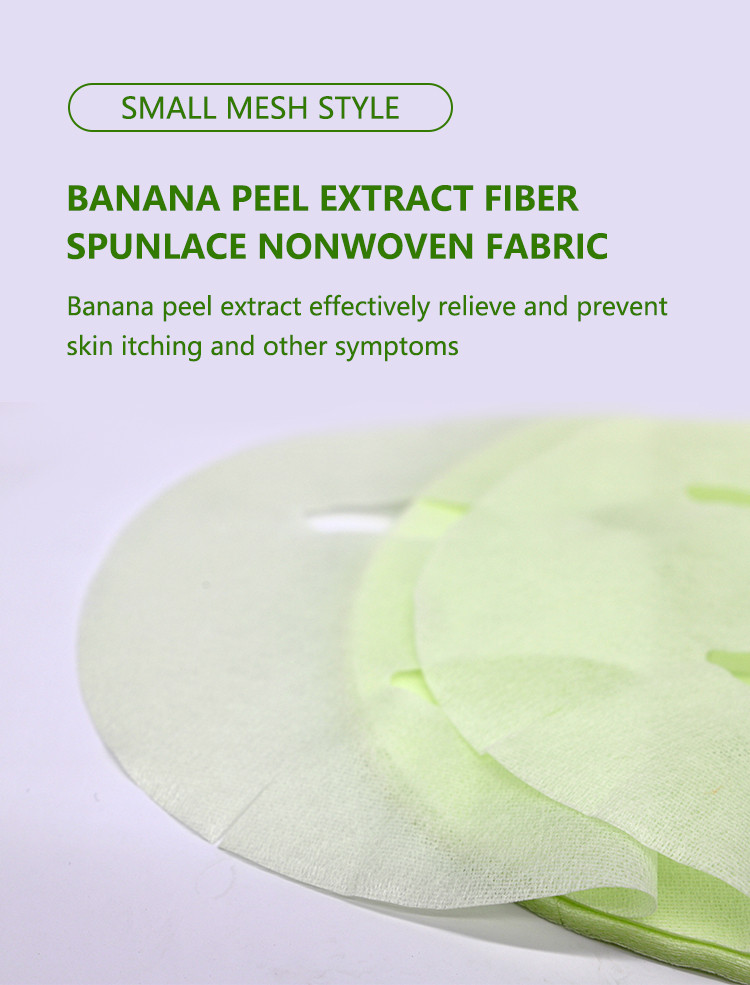 Heavy Metal Detection Data:

Extractable heavy metal test method: refer to Testing Methods STANDARD 100 By OEKO-TEX (2017),detection and analysis by inductively coupled plasma emission spectrometer.

Testing Parameter

Units

Method detection limit (direct contact with skin)

Limit

Result

(Pb)

mg/kg

0.1

0.2

ND

(Cd)

mg/kg

0.01

0.1

ND

(Cr)

mg/kg

0.1

1

ND

(Hg)

mg/kg

0.01

0.02

ND

(Sb)

mg/kg

3

30

ND

(As)

mg/kg

0.2

0.2

ND

(Cu)

mg/kg

2.5

50

ND

(Co)

mg/kg

1

1

ND

(Ni)

mg/kg

1

1

ND

Result

Pass
| | | | |
| --- | --- | --- | --- |
| | | | |
| | GB/T2910 | % | 100% Banana peel extract fiber |
| Weight | ISO 9073-1 | g/m2 | 51.2 |
| | PRIUS Standard | mm | 0.37 |
| | FZ/T6402 | S/10cm | 29.2 |
| White degree | GB/T 8424.2 | | |
| Tensile strength CD dry | ISO 9073-3 | N | |
| Tensile strength MD dry | ISO 9073-3 | N | 35.1 |
| Breaking elongation CD dry | ISO 9073-3 | % | 123.3 |
| Breaking elongation MD dry | ISO 9073-3 | % | 119.7 |
| Capacity of liquid-absorbability | FZ/T 64012 | % | 930 |