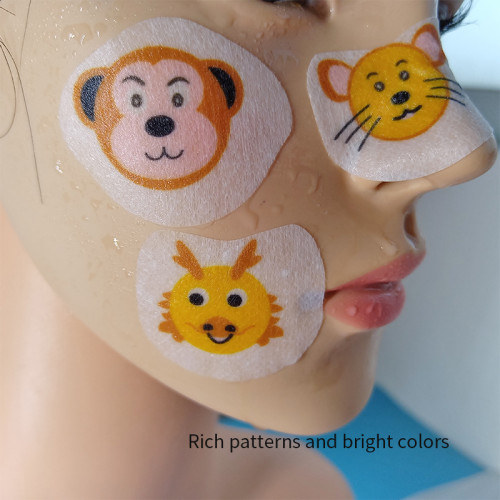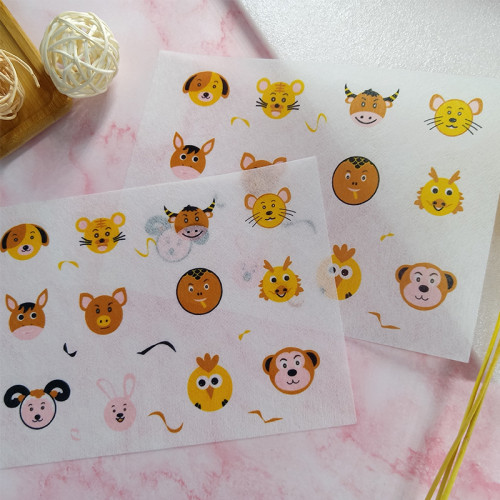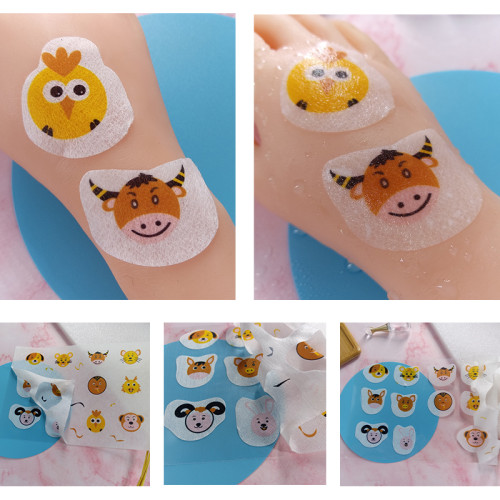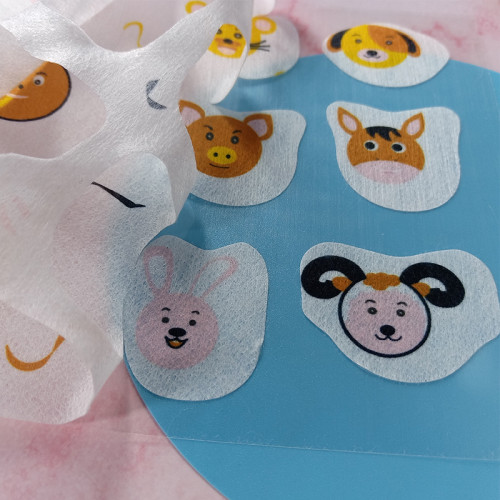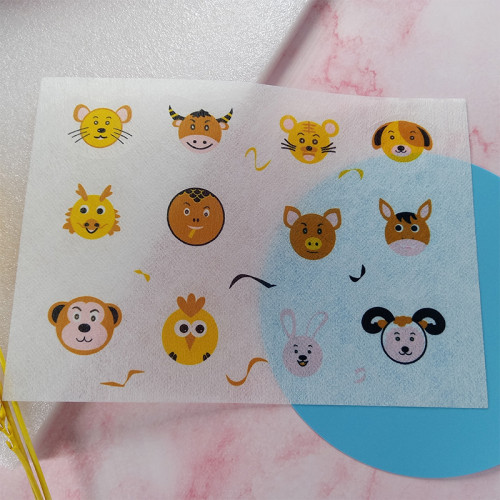 Cartoon Facial Mask Fabric Sticker Animal Sheet Mask Material Sticker Color Printing Sheet Mask Fabric
Model

CSN40CP
MOQ

50000 piece
Item specifics
Color

White
Ingredient

Polyester+ viscose
Place of Origin

Guangdong, China
Brand Name

Proyons
Skin Type

All skin types
Feature

color is rich, pattern can be customized
Description
Product Description
As a professional facial mask fabric manufacturer, we provide different mask fabrics. Cartoon facial mask fabric sticker is one of them. If you have demand for this kind of products, please contact us.
Children's Cartoon Facial Mask Fabric Sticker Animal Sheet Mask Material Sticker Color Card Printing Mask Fabric
The CSN40CP product is a composite printing mask. It is blended with viscose fiber and polyester fiber, and is spun into cloth through high-pressure spunlace. This product is printed with 12 Chinese zodiac animal patterns through the post-printing finishing process (patterns can be customized. AI design drafts are required. If famous trademarks or characters are involved, authorization for trademark use is required). The pigment is a cosmetic-grade material, and the product has passed safety tests such as MSDS testing and azo testing to ensure the safety of the product. The standard size of this product is 210*150mm. Within this size, 2-20 patterns can be designed arbitrarily as independent mask stickers. With the independent PE film as the carrier, each mask can be torn off and used separately. The number of patterns and the types of patterns can be customized according to product usage scenarios. For different pattern shapes, we will customize different dies to ensure that each pattern can be separated and used separately. In terms of color and quantity design, no more than 6 colors are required for processing type orders. This product can be used with any cosmetic material without fading or irritation. Suitable for all skin types as well as for children.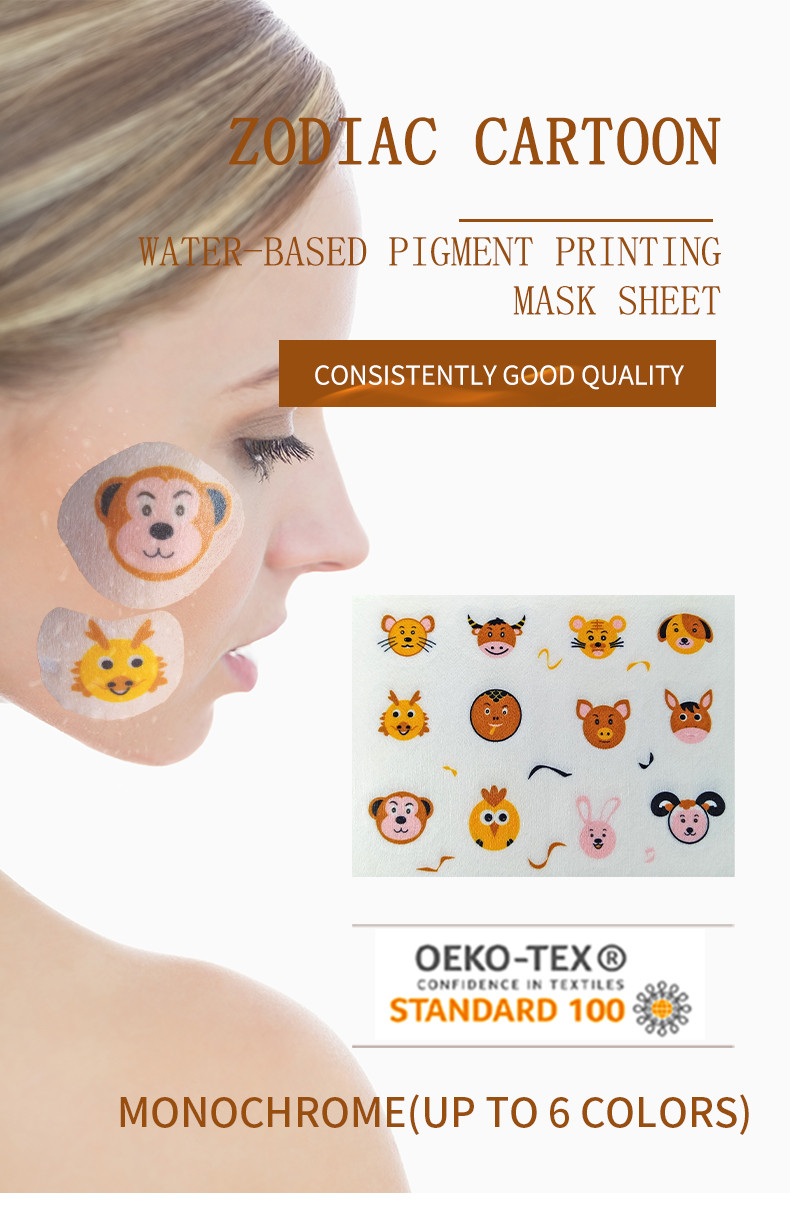 White

40gsm

35~70gsm


Polyester fiber + viscose fiber




150*210mm


YES

Variety of materials be blended:

YES

MSDS/COA



Finish:

Printing

The color is rich, and the pattern can be customized. Each product can be customized with multiple patterns, and each pattern can be used independently.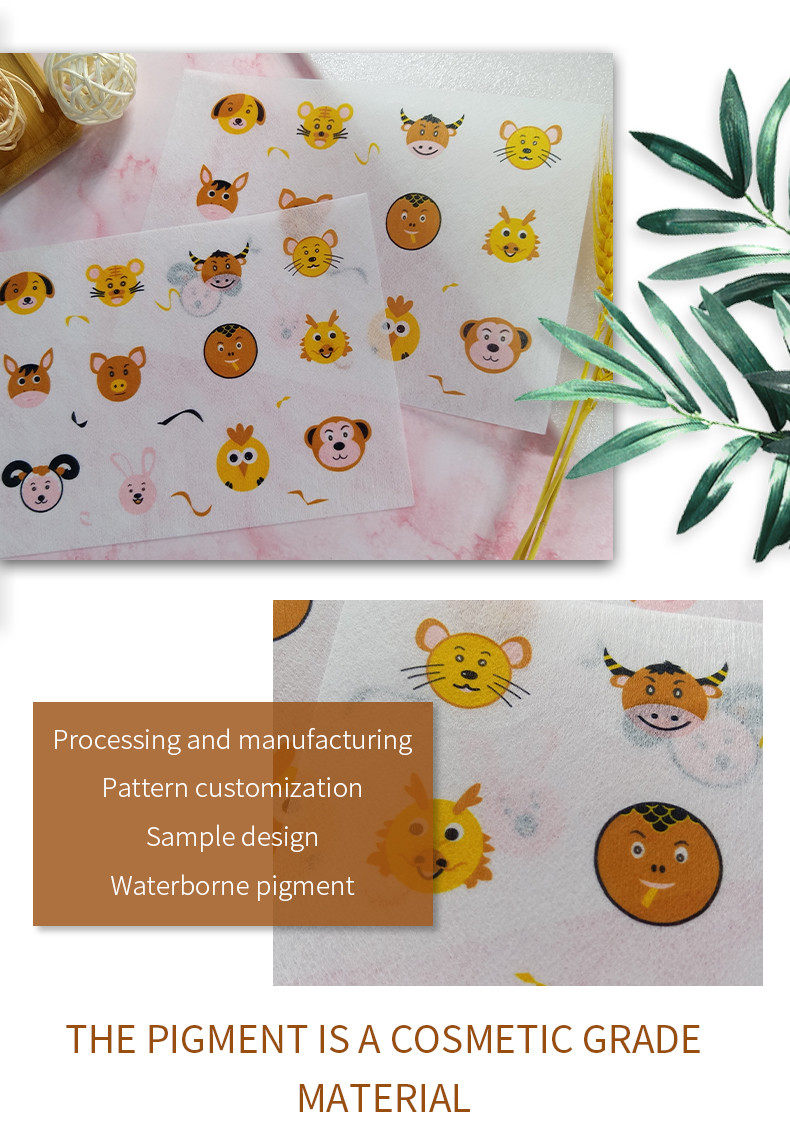 Heavy Metal Detection Data:

Extractable heavy metal test method: refer to Testing Methods STANDARD 100 By OEKO-TEX (2017),detection and analysis by inductively coupled plasma emission spectrometer.

Testing Parameter

Units

Method detection limit (direct contact with skin)

Limit

Result

(Pb)

mg/kg

0.1

0.2

ND

(Cd)

mg/kg

0.01

0.1

ND

(Cr)

mg/kg

0.1

1

ND

(Hg)

mg/kg

0.01

0.02

ND

(Sb)

mg/kg

3

30

ND

(As)

mg/kg

0.2

0.2

ND

(Cu)

mg/kg

2.5

50

ND

(Co)

mg/kg

1

1

ND

(Ni)

mg/kg

1

1

ND

Result

Pass