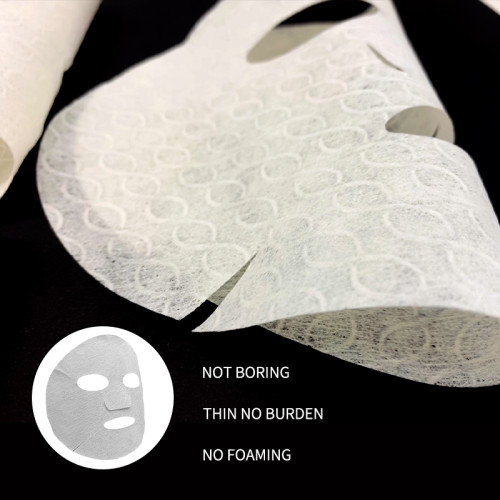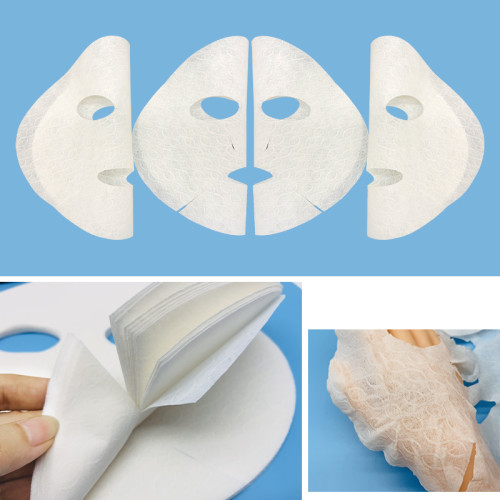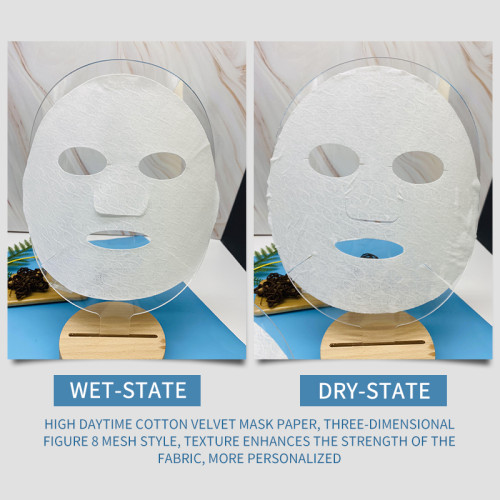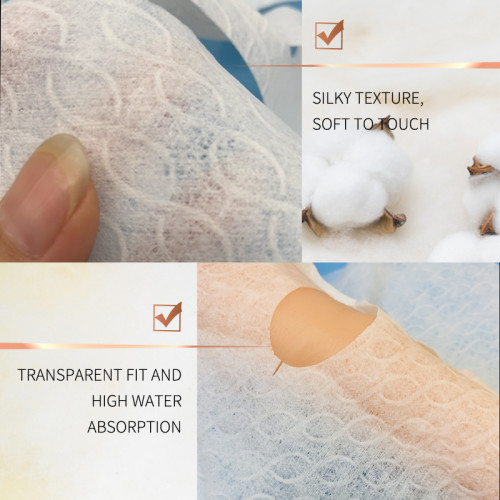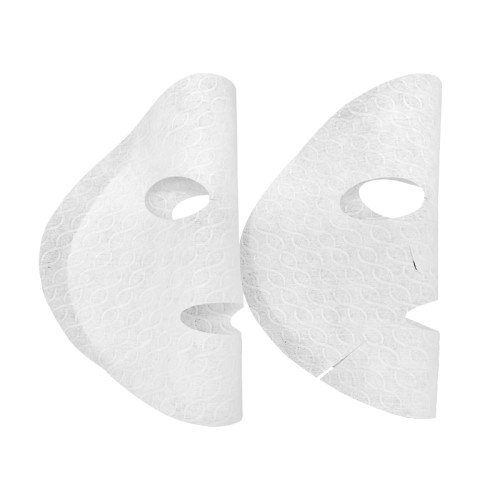 55gsm Natural Spunlace Nonwoven Cotton Pulp Fiber Spunlace Fabric Face Sheet Mask Wholesale
Model

WCPF55
MOQ

50000 piece
Item specifics
Color

White
Ingredient

100% cotton pulp fiber
Place of Origin

Guangdong, China
Brand Name

Proyons
Skin Type

All skin types
Feature

efficient moisture absorption, water retention
Description
Product Description
As a
professional
spunlace fabric & mask manufacture. We develop different plant fibers for the manufacture of f
acial mask material
products all year round. The properties of cotton pulp fibers are similar to cupro fiber because they are both cotton pulp. If you are interested in this product, please feel free to
contact us
.
This product is made of 100% Cotton pulp fiber, which is manufactured by full cross high pressure spunlace. Cotton pulp fiber is a new material developed by our company in 2021. It uses cotton as the main raw material, and is made by beating and spinning. The spinning specification is 1.3Dext*38mm. Our company's lint fiber is divided into high whit lint and high-permeability lint. This material was patented by our company in 2022, and passed MSDS/microorganism/heavy metal detection/180-day compost degradation detection. The cotton pulp fiber spunlace mask fabric has the characteristics of good air permeability, high transparency, soft hand feeling and long-lasting water lock. The cross-section of the fiber is approximately round and the surface is smooth, so it rarely irritates the skin and is not easy to damage the delicate and sensitive skin. Cotton pulp fiber series products are divided into high-transparency series and high-white series. Among them, the high-transparency series has excellent transparency, which is the main selling point of the high-transparency series. Even if the mask pack weighs 40 grams, the use effect still has good invisible transparency. The high white series has better application performance, because the high white series has only 0.8Detx of lint fiber. At the same time, the high-white series has better moisture absorption performance than the high-permeability series. WCPF55 high-permeability series of velvet spunlace non-woven fabrics and mask fabrics, as our company's main products, are superior to Tencel fabrics in terms of fit, transparency, water absorption, softness, gloss and other aspects, and are high-end A new choice of ideal material for mask fabric.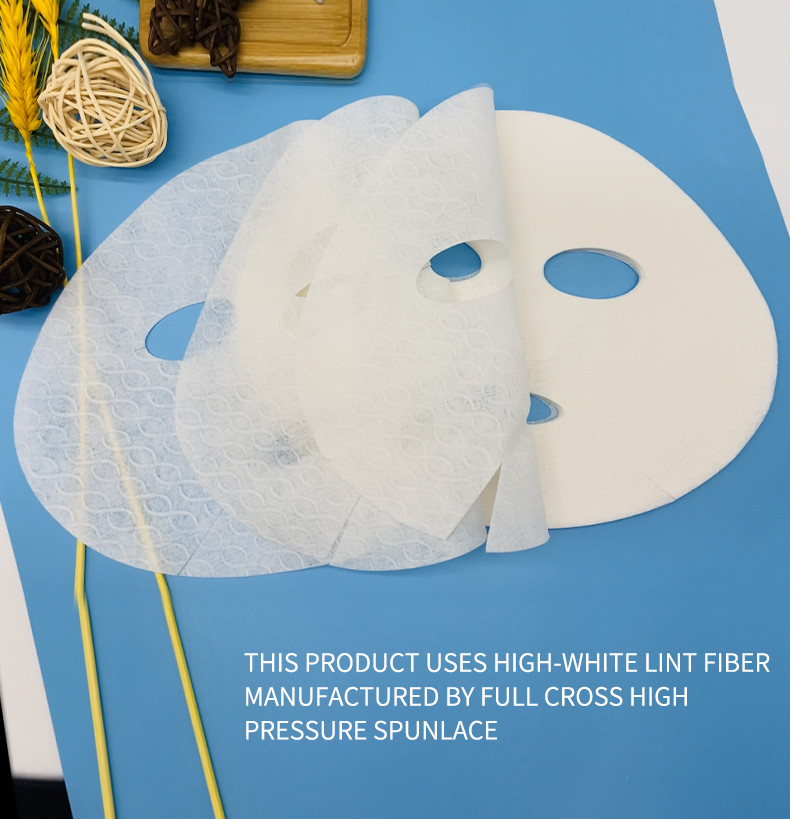 WCPF55


DNA8 Pattern


55gsm

28~150gsm


100% Cotton Pulp Fiber


Single sheet


220*200mm


YES

Variety of materials be blended:

YES

Printing/Compression/Lyophilized powder finishing

Soft and shiny to the touch, efficient moisture absorption and water retention, and excellent wet transparency is more suitable for the needs of composite mask substrates. The whole series of spunlace non-woven products of cotton plup fiber have compost degradation report.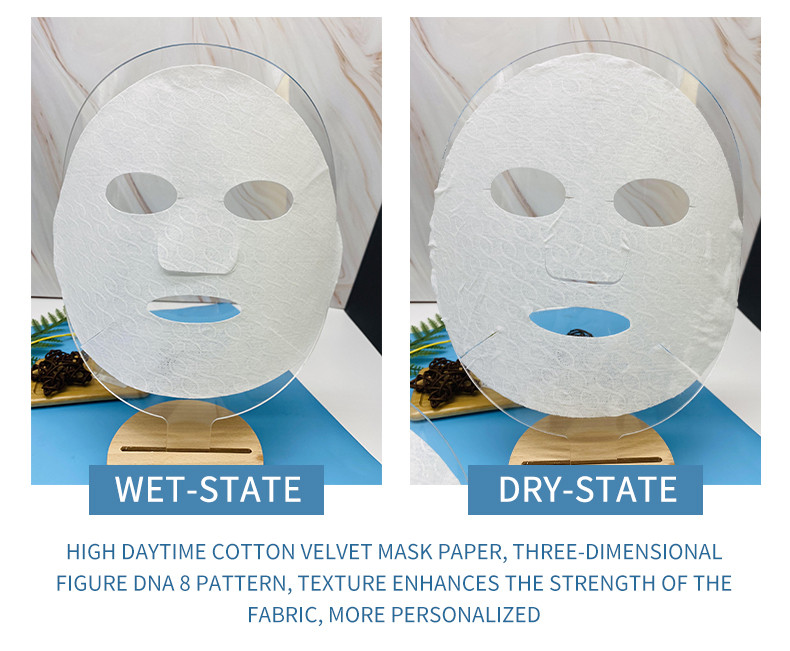 Heavy Metal Detection Data:

Extractable heavy metal test method: refer to Testing Methods STANDARD 100 By OEKO-TEX (2017),detection and analysis by inductively coupled plasma emission spectrometer.

Testing Parameter

Units

Method detection limit (direct contact with skin)

Limit

Result

(Pb)

mg/kg

0.1

0.2

ND

(Cd)

mg/kg

0.01

0.1

ND

(Cr)

mg/kg

0.1

1

ND

(Hg)

mg/kg

0.01

0.02

ND

(Sb)

mg/kg

3

30

ND

(As)

mg/kg

0.2

0.2

ND

(Cu)

mg/kg

2.5

50

ND

(Co)

mg/kg

1

1

ND

(Ni)

mg/kg

1

1

ND

Result

Pass
| | | | |
| --- | --- | --- | --- |
| | | | |
| | GB/T2910 | % | |
| Weight | ISO 9073-1 | g/m2 | 36.2 |
| | PRIUS Standard | mm | 0.19 |
| | FZ/T6402 | S/10cm | 31.4 |
| White degree | GB/T 8424.2 | | |
| Tensile strength CD dry | ISO 9073-3 | N | |
| Tensile strength MD dry | ISO 9073-3 | N | 23.5 |
| Breaking elongation CD dry | ISO 9073-3 | % | 56 |
| Breaking elongation MD dry | ISO 9073-3 | % | 36 |
| Capacity of liquid-absorbability | FZ/T 64012 | % | 1087 |