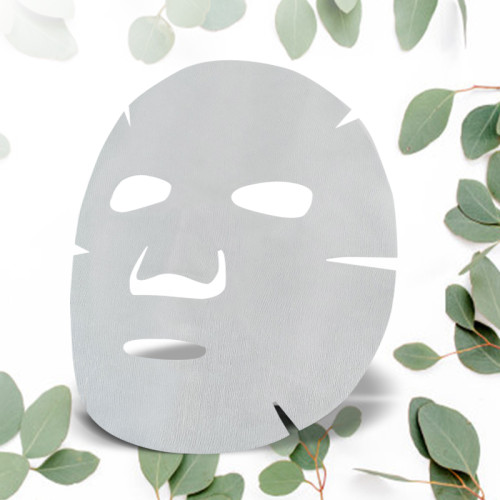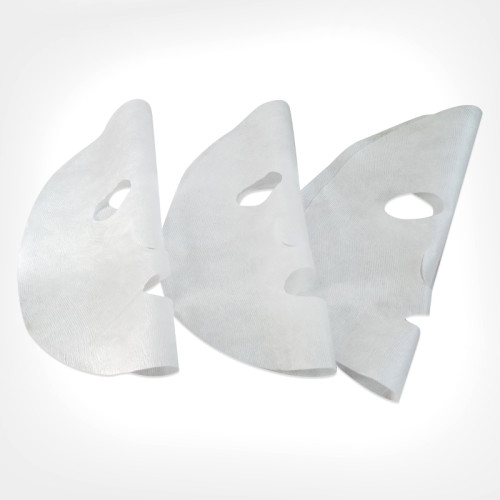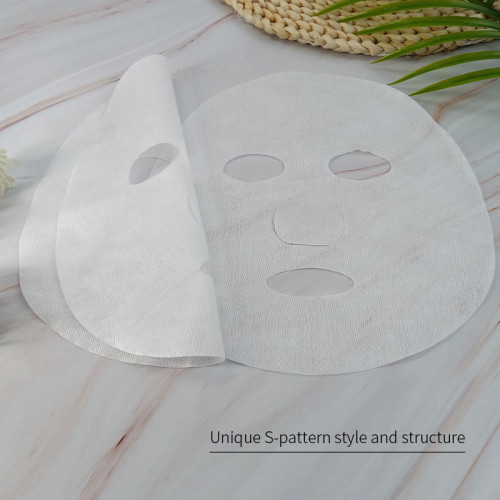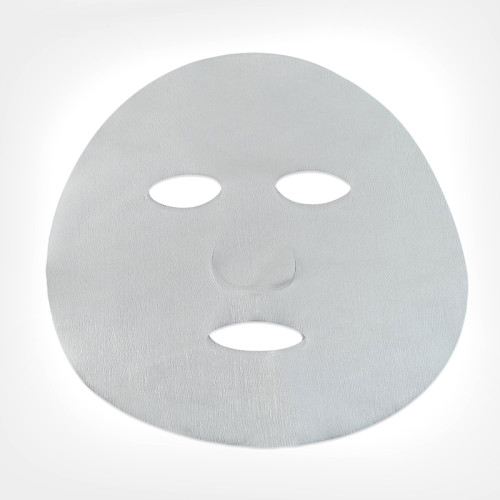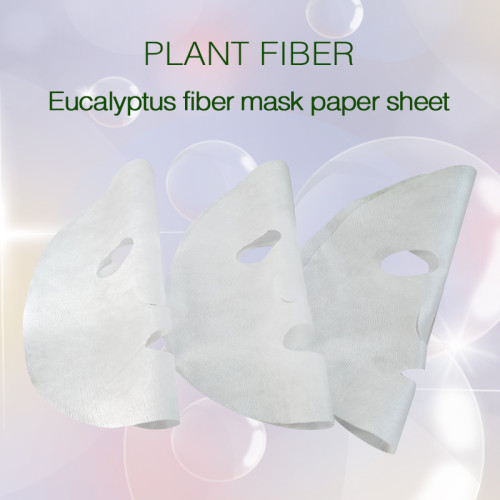 45gsm eucalyptus fiber disposable nonwoven fabric mask dry facial mask face mask sheet
Model

CXF45S
MOQ

50000 piece
Item specifics
Color

White
Ingredient

100% eucalyptus fiber
Place of Origin

Guangdong, China
Brand Name

Proyons
Skin Type

All skin types
Feature

softer fit, thinner, more compliant
Review
m***g

2023/3/24 11:43
Very good,the fabric is soft and breathable
Description
Product Description
Eucalyptus fiber disposable nonwoven fabric mask dry facial mask face mask sheet
As a professional s
punlace nonwoven manufacturer
, we have developed a variety of different materials for face mask paper all year round.
Eucalyptus fiber
mask sheet is one of the mask fabric substrates that we highly recommend. If you are interested in this type of products, please feel free to contact us.
Eucalyptus fleece mask fabric is made from eucalyptus tree. Eucalyptus mainly contains eucalyptol (65-75%), terpenes, amyl leaf oil, carvone, pulegone, piperonone and other ingredients, which have various beneficial functions for the skin. The eucalyptus fiber mask fabric can be made into 28~45g fabric, and can be made in plain weave, S pattern and other texture styles. The eucalyptus fiber is very light and thin, and the mask base fabric is comfortable and transparent. In the pursuit of low-weight permeability, it can still maintain excellent essence conductivity. Compared with the same area, the eucalyptus velvet mask fabric has more uniform oxygen channels, which makes the ventilation effect better. The surface of eucalyptus fiber is smooth and dust-free, with high cleanliness. The source of raw materials is natural, the production process is safe and environmentally friendly, degradable, does not add any chemical substances, does not generate chemical pollution, meets environmental protection requirements, has no irritation to the skin, no chemical residues, and is naturally non-irritating to the skin. CFX45S eucalyptus velvet fiber spunlace mask base fabric is manufactured by the full cross spunlace process, the fabric surface is uniform, the porosity is high, under the same conditions, the adsorption force is stronger, the air permeability is better, and the natural plant source greatly reduces allergies Chance.It has a softer fit, thinner, more compliant and transparent mask fabric characteristics. Under good permeability conditions, it can still maintain excellent essence conductivity, and it fits perfectly with the skin, just like the second layer of skin on the human body .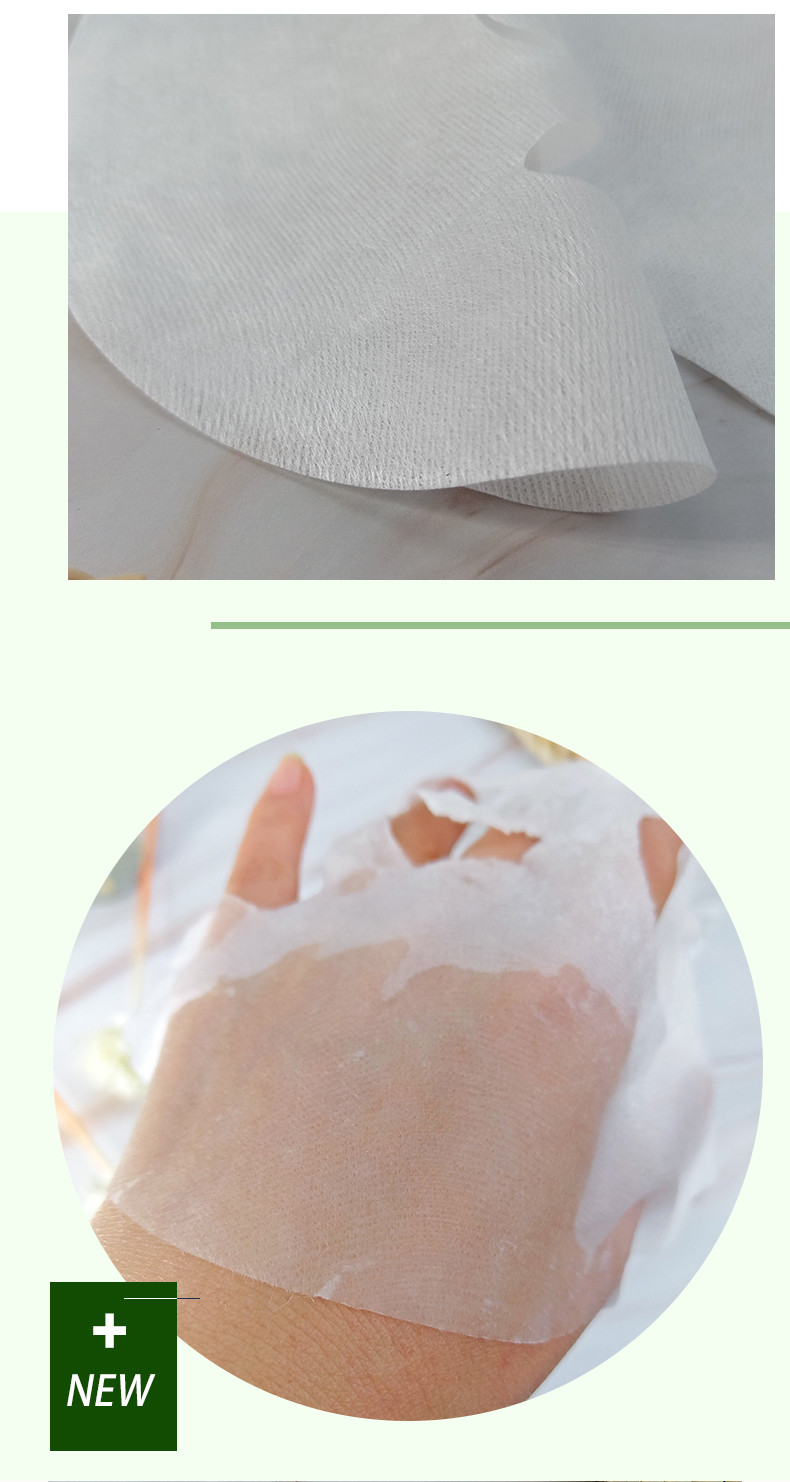 45gsm

Single Sheet


220*200mm


YES

Variety of materials be blended:

YES

Printing/Lyophilized powder finishing

The three-layer mesh cross spunlace technology, the trapezoidal through-hole structure in the middle layer, can improve the liquid carrying rate of the mask cloth, and reduce the evaporation of the essence during the use of the facial mask fabric, and cooperate with the softness of the inner and surface fiber layers Compatibility, which is beneficial to improve the water retention and wet compress effect of the mask, and improve the softness and docileness of the mask when used.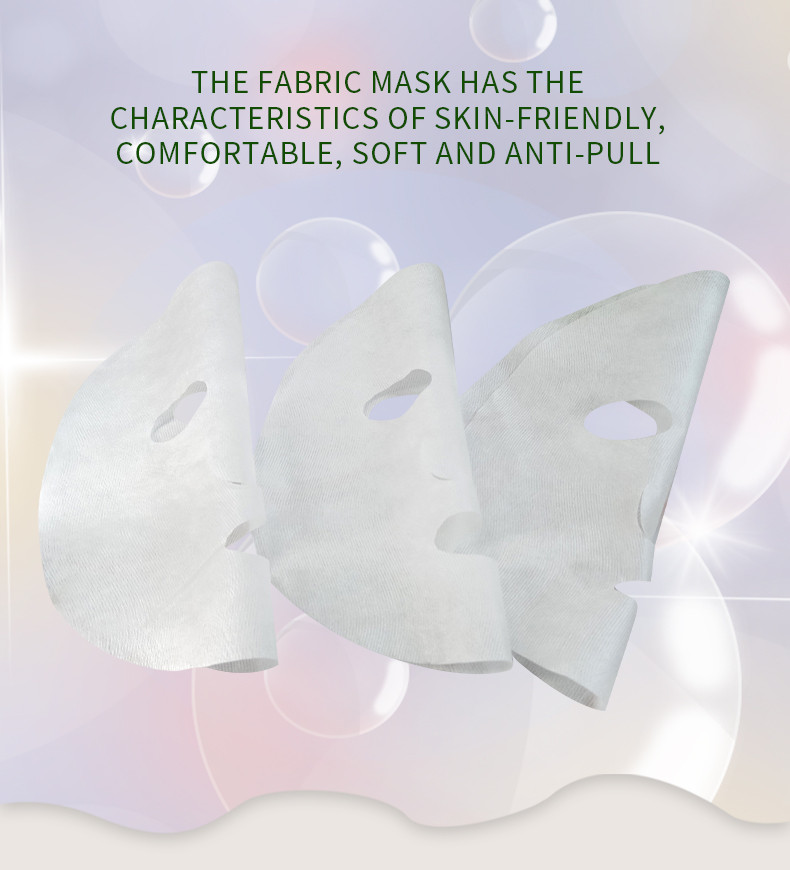 Heavy Metal Detection Data:

Extractable heavy metal test method: refer to Testing Methods STANDARD 100 By OEKO-TEX (2017),detection and analysis by inductively coupled plasma emission spectrometer.

Testing Parameter

Units

Method detection limit (direct contact with skin)

Limit

Result

(Pb)

mg/kg

0.1

0.2

ND

(Cd)

mg/kg

0.01

0.1

ND

(Cr)

mg/kg

0.1

1

ND

(Hg)

mg/kg

0.01

0.02

ND

(Sb)

mg/kg

3

30

ND

(As)

mg/kg

0.2

0.2

ND

(Cu)

mg/kg

2.5

50

ND

(Co)

mg/kg

1

1

ND

(Ni)

mg/kg

1

1

ND

Result

Pass
| | | | |
| --- | --- | --- | --- |
| | | | |
| | GB/T2910 | % | |
| Weight | ISO 9073-1 | g/m2 | |
| | | | |
| | FZ/T6402 | S/10cm | |
| White degree | GB/T 8424.2 | | |
| Tensile strength CD dry | ISO 9073-3 | N | 35.6 |
| Tensile strength MD dry | ISO 9073-3 | N | 33.2 |
| Breaking elongation CD dry | ISO 9073-3 | % | 125.4 |
| Breaking elongation MD dry | ISO 9073-3 | % | 133.8 |
| Capacity of liquid-absorbability | FZ/T 64012 | % | 930 |