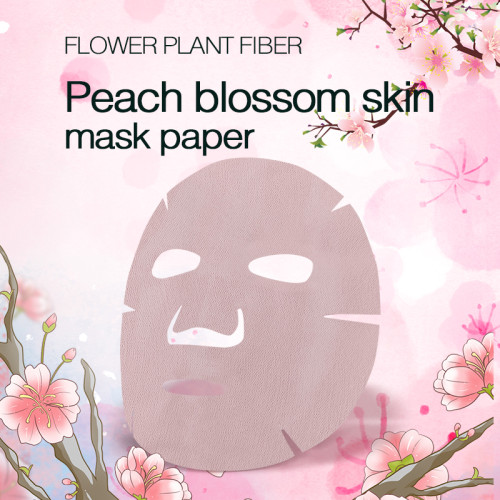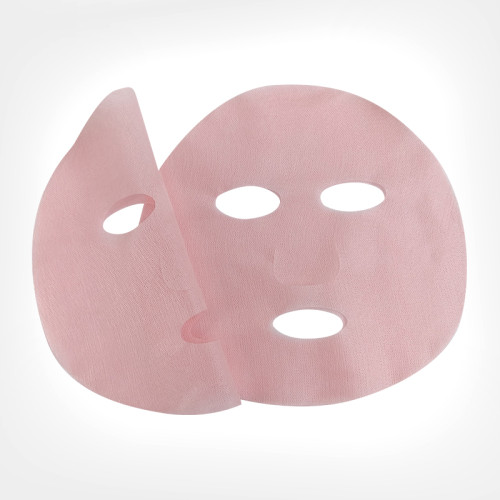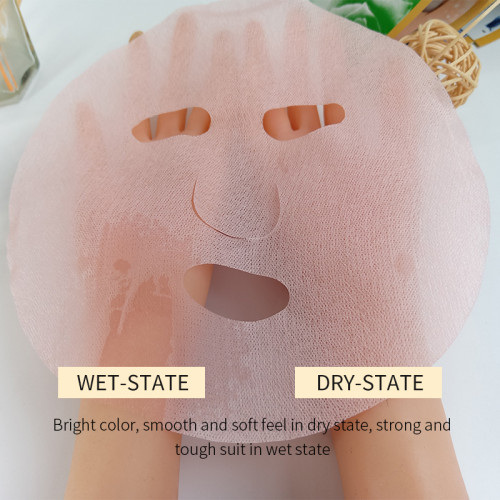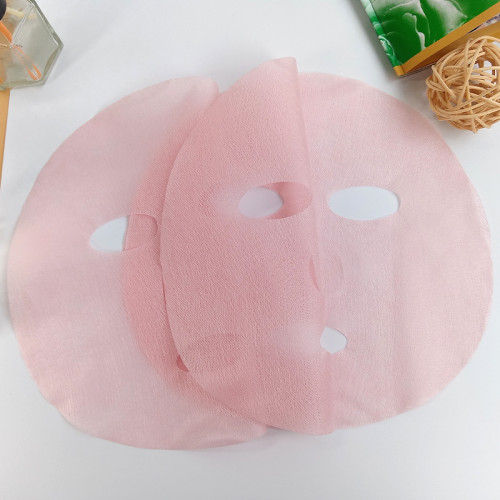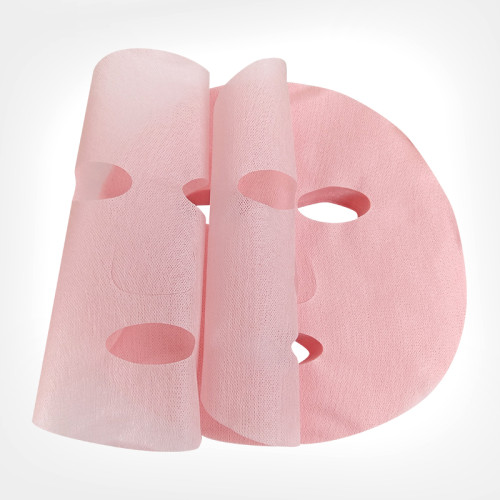 Plant fiber facial mask peach blossom fiber new material for dry mask sheet disposable facial mask
Model

CYN38TV
MOQ

50000 piece
Item specifics
Color

Pink
Ingredient

100% peach blossom fiber
Place of Origin

Guangdong, China
Brand Name

Proyons
Skin Type

All skin types
Feature

bright in color, feels smooth and soft
Description
Product Description
Plant fiber facial mask peach blossom fiber new material for dry mask sheet disposable facial mask
As a professional s
punlace nonwoven manufacturer
, we have developed a variety of different materials for face mask paper all year round. Plant fiber mask sheet is one of the mask fabric substrates that we highly recommend. If you are interested in this type of products, please feel free to contact us.
The substances rich in peach blossoms have good cosmetic effects. Peach blossom extract can moisturize the skin, promote skin nutrition and oxygen supply, accelerate the excretion of lipofuscin, which promotes human aging, and prevent melanin deposition, so as to improve the nourishing effect of beauty materials on the skin. Proyons CYN38TV peach blossom mask fabric is spun from peach blossom petal extract to produce pink non-woven fiber, which is manufactured through high-pressure full-cross spunlace process. The fabric is a mesh S-grain style with a thickness of 38gsm. The thickness of 38 grams per square meter serves as the balance point in the mask fabric, and the thickness is just right. The stretch film is easy to open even in a wet state without the use of an interlining. The feeling of application is light and sticky, and the fabric surface has a flexible vertical and horizontal tension ratio, which can hold moisture for a long time without feeling stuffy. The mesh-type S-textured fabric surface can greatly improve the gas exchange between the facial skin and the outside world, and it can still make the skin comfortable after long-term use. Peach Blossom Fiber uses Peach Blossom Pulp Foil as the fiber base, adding substances extracted from peach blossom petals, and the overall color style is pink. CYN38TV peach blossom fiber mask fabric product is soft and skin-friendly as a whole, with a strong sense of color. No matter dry fabric or wet fabric, it still has good skin affinity. Peach blossom extract can improve the use efficiency of beauty materials, and peach blossom fiber can provide a good membrane fabric carrier for the skin, meeting the carrier needs of mask products from multiple aspects such as water-locking, skin-adhesive, skin-friendly and functional skin care.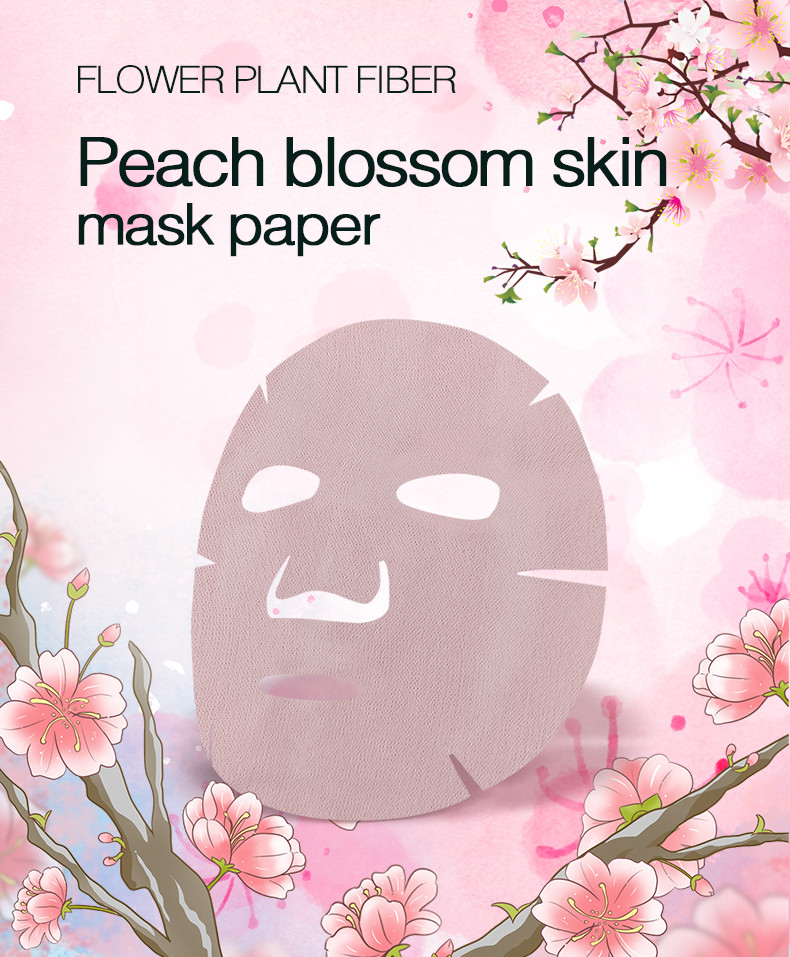 38gsm

Single Sheet


210*210mm


YES

Variety of materials be blended:

YES

Printing/freeze drying/compressed/compsite

The natural peach blossom is bright in color, feels smooth and soft in dry state, and strong and sticky in wet state. Peach blossom extract can help improve the efficiency of nourishing the skin. The overall fabric style is made of mesh S pattern, which provides good air permeability and ventilation performance. The pink color is more prominent in the wet state, making the skin matte.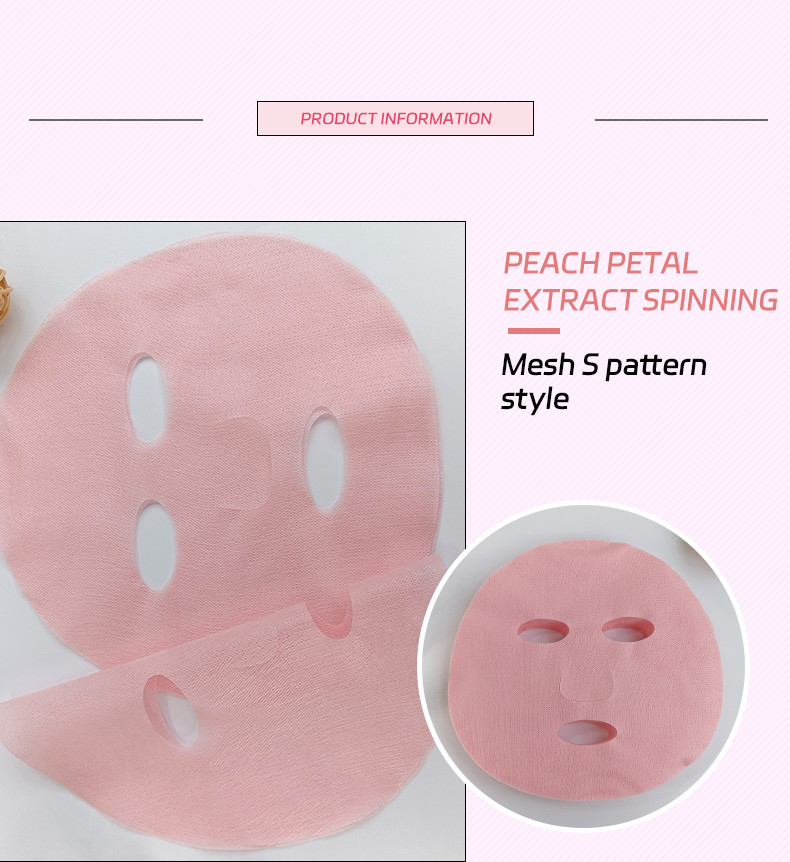 Heavy Metal Detection Data:

Extractable heavy metal test method: refer to Testing Methods STANDARD 100 By OEKO-TEX (2017),detection and analysis by inductively coupled plasma emission spectrometer.

Testing Parameter

Units

Method detection limit (direct contact with skin)

Limit

Result

(Pb)

mg/kg

0.1

0.2

ND

(Cd)

mg/kg

0.01

0.1

ND

(Cr)

mg/kg

0.1

1

ND

(Hg)

mg/kg

0.01

0.02

ND

(Sb)

mg/kg

3

30

ND

(As)

mg/kg

0.2

0.2

ND

(Cu)

mg/kg

2.5

50

ND

(Co)

mg/kg

1

1

ND

(Ni)

mg/kg

1

1

ND

Result

Pass
| | | | |
| --- | --- | --- | --- |
| | | | |
| | GB/T2910 | % | |
| Weight | ISO 9073-1 | g/m2 | |
| | | | |
| | FZ/T6402 | S/10cm | |
| White degree | GB/T 8424.2 | | |
| Tensile strength CD dry | ISO 9073-3 | N | 23.6 |
| Tensile strength MD dry | ISO 9073-3 | N | 20.9 |
| Breaking elongation CD dry | ISO 9073-3 | % | 135.7 |
| Breaking elongation MD dry | ISO 9073-3 | % | 141.2 |
| Capacity of liquid-absorbability | FZ/T 64012 | % | 960 |