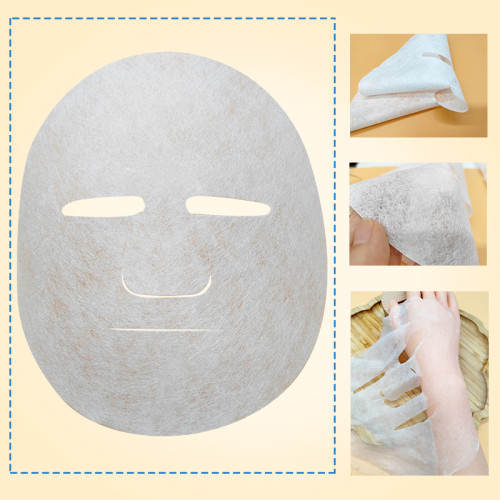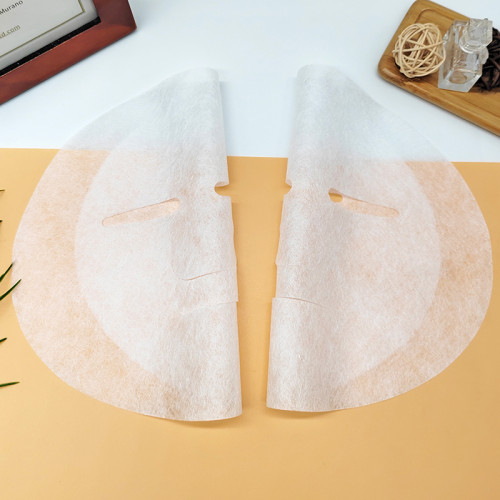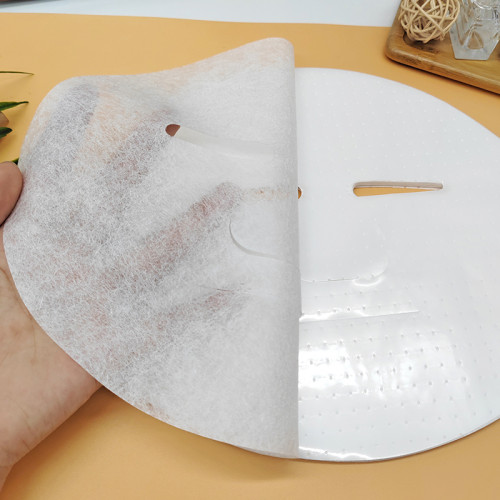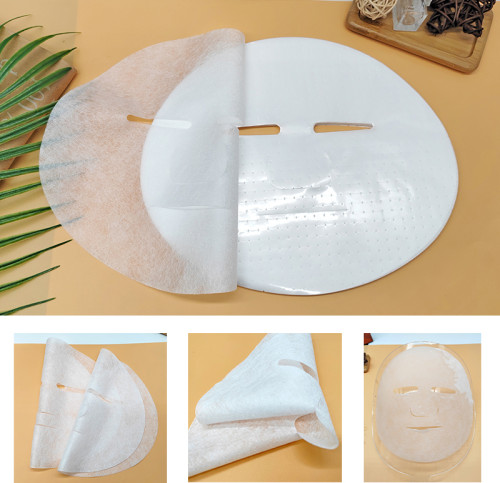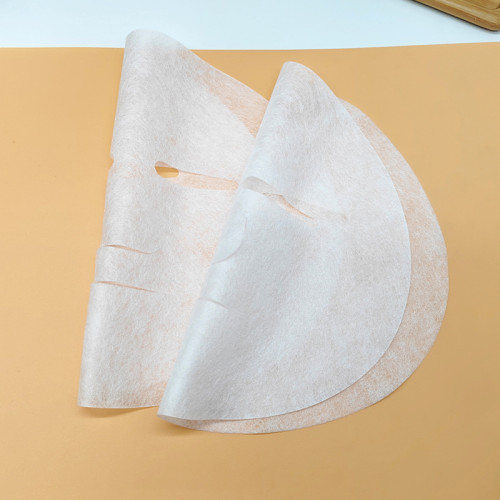 25gsm Facial Sheet Mask Starch Fiber Spunlace Nonwoven Fabric Face Sheet Mask Wholesale
Item specifics
Color

White
Ingredient

100% starch fiber
Place of Origin

Guangdong, China
Brand Name

Proyons
Skin Type

All skin types
Feature

high temperature hydrolysis,breathable,softness
Description
Product Description
As a professional spunlace nonwoven fabric supplier, we have developed different types and functions of spunlace fabrics for face sheet mask all year round.
We provide all kinds of spunlace non-woven rolls and face sheet mask wholesale. If you have any needs in this regard, please feel free to contact us.
CPV25 is a bio-fiber, which uses starch fiber as spinning raw material.
CPV25 transparent water soluble cloth warm-sensitive mask cloth, the mask fabric material is made of high molecular starch protein, wheat protein and plant glucose molecular extract are spun and carded into cloth by low temperature polymerization method, which is plant fibrous protein and biodegradable. In the state of dry cloth, it is light, only 3/5 of cotton, feels fluffy, and the facial warmth is slightly tightened. One of the company's main products, it is better than other mask cloths in terms of fit, water absorption, water retention, softness and gloss. It is a new choice of ideal mask cloth materials.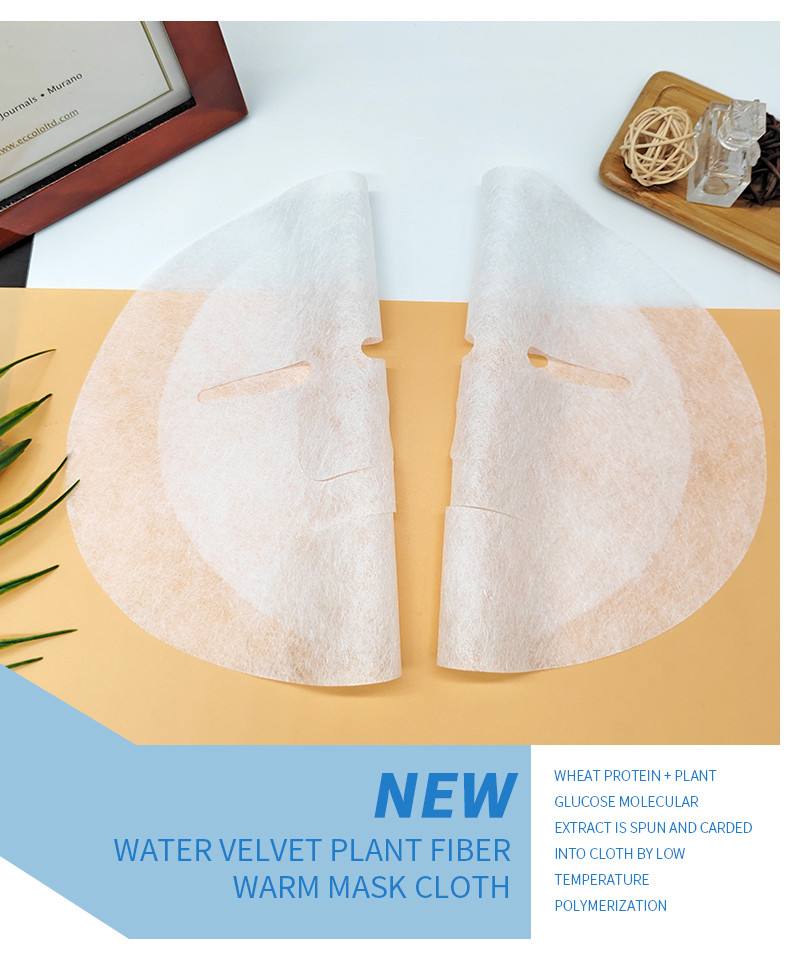 White

Plain

25gsm

200xs220mm

YES

Variety of materials be blended:

YES

Printing/Compression/Lyophilized powder finishing

CVP25

water soluble

spunlace non-woven material features, light weight, only three-fifths of cotton, with fluffy, good feel. Hydrophilic and breathable. With good hydrophilic properties, the molecular chain can be easily broken, so that it can be hydrolyzed and degraded effectively.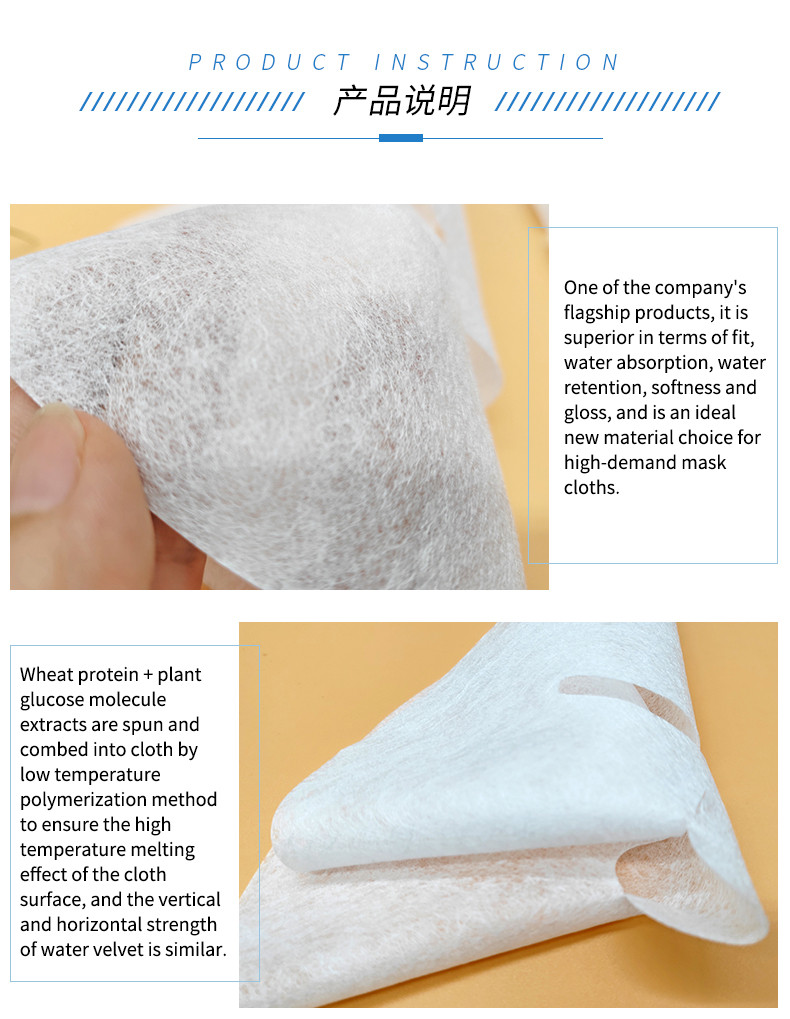 Heavy Metal Detection Data:

Extractable heavy metal test method: refer to Testing Methods STANDARD 100 By OEKO-TEX (2017),detection and analysis by inductively coupled plasma emission spectrometer.

Testing Parameter

Units

Method detection limit (direct contact with skin)

Limit

Result

(Pb)

mg/kg

0.1

0.2

ND

(Cd)

mg/kg

0.01

0.1

ND

(Cr)

mg/kg

0.1

1

ND

(Hg)

mg/kg

0.01

0.02

ND

(Sb)

mg/kg

3

30

ND

(As)

mg/kg

0.2

0.2

ND

(Cu)

mg/kg

2.5

50

ND

(Co)

mg/kg

1

1

ND

(Ni)

mg/kg

1

1

ND

Result

Pass
| | | | |
| --- | --- | --- | --- |
| | | | |
| | GB/T2910 | % | |
| Weight | ISO 9073-1 | g/m2 | 25.7 |
| | PRIUS Standard | mm | 0.16 |
| | FZ/T6402 | S/10cm | 32.4 |
| White degree | GB/T 8424.2 | | |
| Tensile strength CD dry | ISO 9073-3 | N | |
| Tensile strength MD dry | ISO 9073-3 | N | 22.4 |
| Breaking elongation CD dry | ISO 9073-3 | % | 130.2 |
| Breaking elongation MD dry | ISO 9073-3 | % | 125.3 |
| Capacity of liquid-absorbability | FZ/T 64012 | % | 829 |