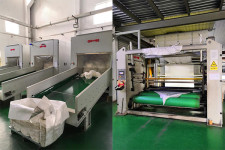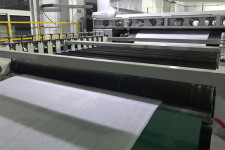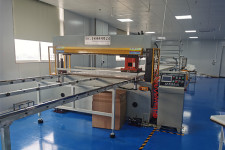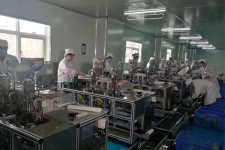 FOSHAN CITY PRIUS BIO-TECH ., LTD mainly engaged in research, development, manufacturing and sales of various kinds of spunge non-woven fabrics.
We has passed the ISO9001:2015 quality management system certification, and obtained the sanitation certification of China disinfection product production enterprise.
Our company imports all kinds of fibers all year round up to 800 tons, the monthly maximum output can produce 120 tons of spunlaced non-woven fabrics.Main raw materials including cupra fiber, Silk, Tencel, Lyocell, Bamboo fiber, Tea fiber and all kinds of functional spunlaced non-woven fiber.
We have a variety of mesh options including plain square holes and hexagons.In terms of spunlace non-woven rolls, we can provide a maximum of 200cm in width and a minimum of 22g per square meter and a maximum of 240g per square meter of slitting cloth with different width.

In terms of facial sheet mask fabric, we have more than 500 kinds of face shapes available for cutting.There is always one suitable for your product requirements. Our company every month has 100 million set cutting and deep processing capacity. Products through SGS\MSDS and other certification.

Besides, Prius has strong and scientific management system and professional development teams. Professional equipment,management and technology are our advantages. OEM and ODM customization are welcomed.
Why Choose Prius Bio-Tech?
Founded in 2017.
2 Factories/ Guangdong and Zhejiang China.
800 tons per years Spunlace Nonwoven Fabric.
1000+ Kind of Style Facial Sheet Mask Fabrics.
95% on time delivery.
100% traceability guaranteed.